A changing environment
Algoma has always prided itself on common sense and practical solutions. While total fuel consumption by voyage has historically been sufficient to manage operations and track profitability, new environmental regulations such as IMO 2020 and competitive pressure have increased the need for fine-grained visibility into fuel consumption and engine performance.
" Environmental regulations are dramatically more stringent than only a few years ago and fuel cost and availability have posed several business challenges. "
Although one solution would be to increase the frequency of manual reporting, the increased workload for crew members that should be focused on operating the vessel is often not acceptable. Moreover, the accuracy of manual reports is impacted by data entry mistakes that are time-consuming to track down and fix later on, potentially decreasing the value obtained from analyzing the data.
As a result, Algoma decided to fit fuel monitoring systems throughout the fleet to refine their cost models and manage their impact on the environment. Fuel flow meters available today are accurate and well-understood, often providing standard interfaces to access the sensor data programmatically. But what solutions are available to automatically capture and transmit the data to shore?
Looking for a solution and a partnership
At first, Algoma tried the OEM data logger software on control workstations but ran into reliability issues leading to gaps of hours and even days in fuel consumption data. The solution was neither reliable nor scalable to the entire fleet.
" Surprisingly, hardware was the easy part, getting the data ashore and processed into meaningful information was the challenge. "
What was needed was a device that could transparently and automatically capture data from flow meters, store it locally then transmit it to shore once satellite connectivity is available. Once ashore, the data must be stored and made available for analysis covering the entire fleet while remaining usable and performing well. Algoma partnered with Beaverlabs to build such a solution.
Introducing the Beambox
The Beambox is a device with a small footprint that supports standard communication interfaces commonly available on vessels and integrates with the existing network, allowing it to fit within this unique environment while remaining cost-effective.
It is key to ensure the system is highly reliable and can be extended even after installation onboard to eliminate the need for attendance by a technician. As fleets are rarely homogeneous when it comes to equipment availability, the Beambox can be configured to match the specific conditions of its vessel.
Once the data is collected onboard, it is sent to shore for long-term storage, making it available to third-party tools via an easy-to-use programmatic interface. It was important for Algoma to remain able to use existing data analysis tools, feeding them with data from the Beambox while taking advantage of the new opportunities offered by Beaverlabs' products.
" The dataset stored is well structured, easily interrogated and there even is a suite of visualization & dashboard tools available. "
Now that data collection was in place, we were ready to focus on delivering value for day-to-day operations and long-term goals.
From data to insights
While data acquisition is an important piece of the puzzle, it is only the first step towards building a useful data mining process that will deliver actual business results. Leveraging data captured onboard and from third-party systems, Prism, our online data analytics platform tailored for ship operators, provides a rich overview of operations.
" We now have real time reporting of scrubber uptime and hundreds of signals logged on our Equinox Class vessels per day to rationalize maintenance based on performance. "
Users can then zoom-in on a specific area of interest and extract the relevant data for further analysis, such as diesel generator usage optimization, or rely on features available out-of-the box to explore and learn more about how their fleet performs.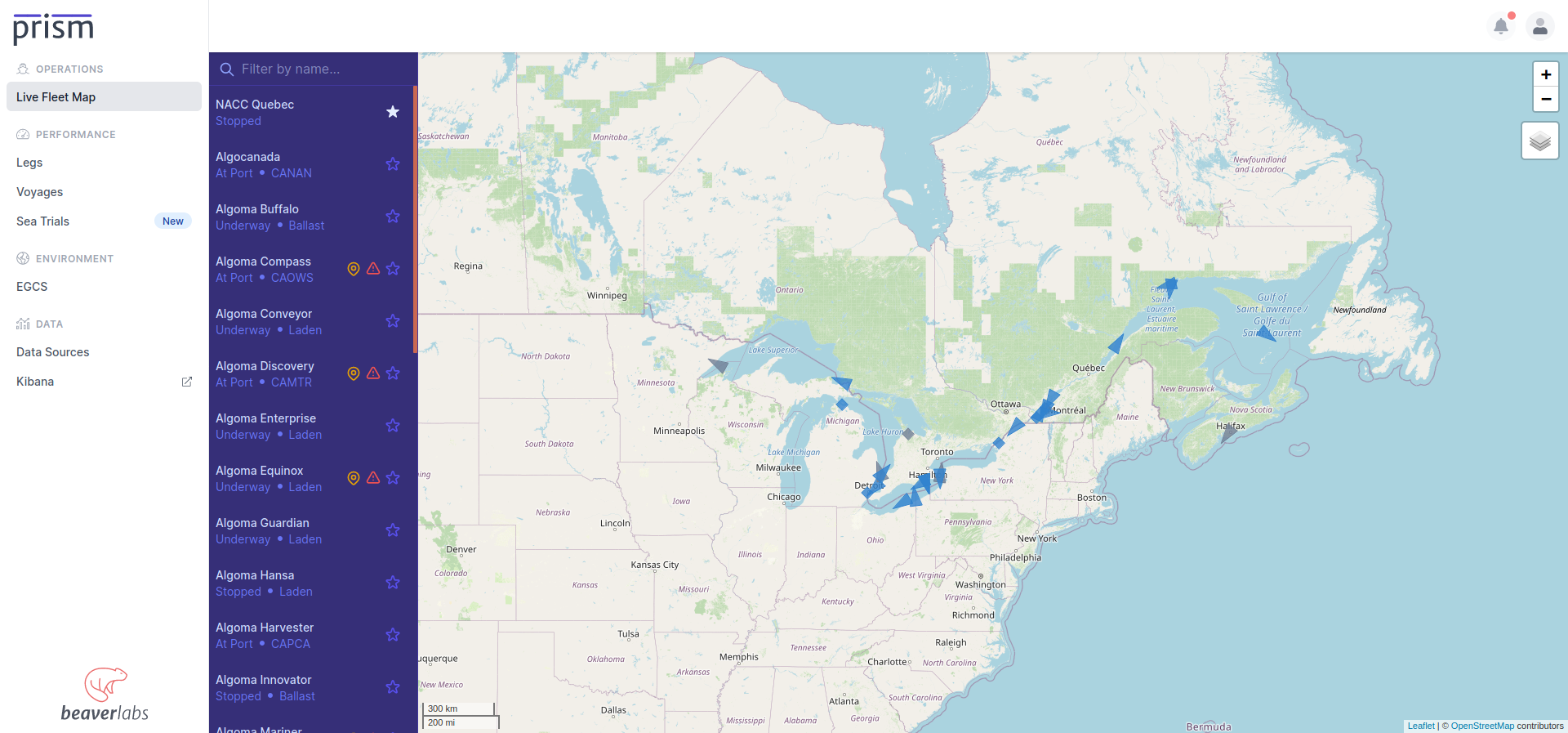 Conclusion
Ship owners and operators are under more pressure to operate efficiently than ever before due to shippers expectations of just-in-time arrival, rising crew and fuel costs and increasingly stringent environmental regulations.
With low data acquisition costs and a flexible data analysis process, Algoma is in a great position to take advantage of future market opportunities with confidence thanks to the improved visibility of its operational efficiency.
Ready to dive in?
Request a demo today