Automated Data Acquisition with the Beambox
Ship owners and ship operators face increasing regulatory and competitive pressure to monitor and improve many operational areas, stressing the need for a coherent and flexible data acquisition strategy.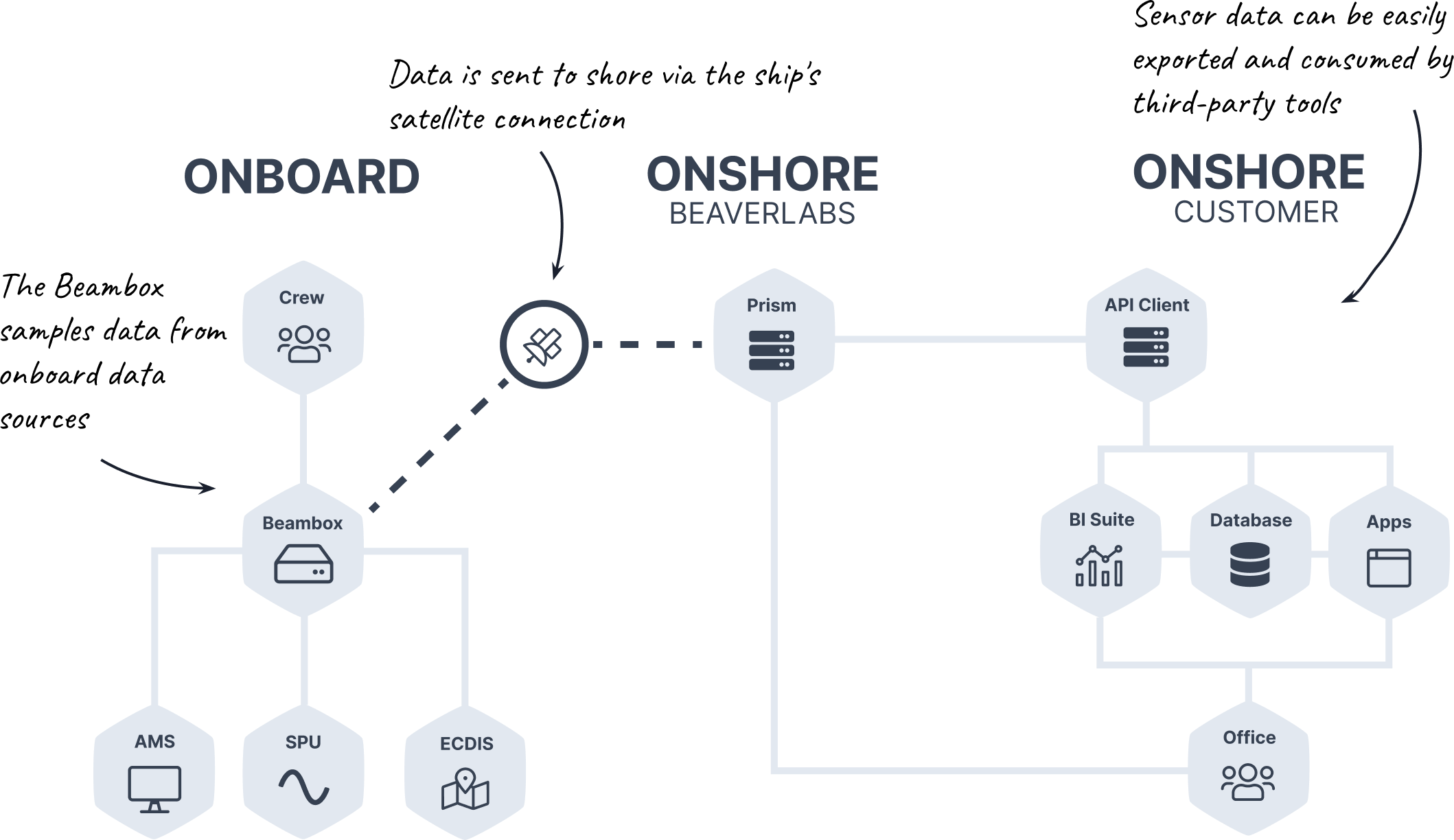 What is it?
The Beambox is a fanless rugged industrial computer installed onboard vessels (e.g. bulk carriers, tankers) that provides a single point of integration for aggregating ship data from any data source available in a reliable, secure and efficient manner.
What problem does it solve?
Modern vessels are equipped with a myriad of sensors tracking every aspect of their operation. Unfortunately, this data is often coming from disparate systems that were not designed to function together, leading to difficulties when it comes to gathering the data and making it useful. The Beambox provides a powerful foundation to capture ship data relevant to your operations and to your business.
How does it work?
The Beambox connects to onboard data sources (e.g. ECDIS, VDR, AMS, flow and torque meters) using safe, industry standard interfaces. It stores the data locally before sending it via the ship's satellite Internet access to Prism, our cloud application, where it can be accessed by end-users and third-party applications.
A cost-effective solution
As a data acquisition solution with remote-upgrade capabilities, the Beambox provides a flexible and future-proof foundation that can be leveraged to feed onshore data analysis pipelines as well as power edge analytics onboard.
Adapts to your environment

The Beambox connects to onboard data sources (e.g. ECDIS, VDR, AMS, flow and torque meters) using industry standard interfaces such as Modbus RTU and NMEA 0183. Each individual signal (e.g. speed over ground, fuel tank temperature, main engine fuel consumption) can then be sampled at a configurable frequency, making sure we capture the data that matters to you.

Configured to fit each vessel

Every vessel is different and has its own history. The Beambox can be configured to match the vessel it is deployed on, avoiding the need for expensive hardware retrofits.

Always improving

Over-the-air upgrades ensures your fleet is receiving the latest features even after deployment. Data sources can also be configured remotely after installation, taking advantage of new sensors as they become available onboard.

Invest where it matters

Because the Beambox connects to any data source and sensor onboard, you do not need to equip your ship with an expensive proprietary suite of sensors to unlock value.

You can start with the essentials, focus on the business problems you are facing today and partner with the suppliers you trust, knowing you can extend the system's capabilities at any time, at your own pace.
Your data, always available
The Beambox regularly transmits the captured data to Prism, our online data analytics platform tailored for ship operators. Once in Prism, the data is safely stored and made available via our web API.
Access anytime

You can access the captured data from any vessel at any time, without the need to connect to the vessel directly. We keep the data in our own database, ensuring you can access the historical data accumulated over time.

Near real-time

The Beambox transmits the data to Prism every minute when satellite broadband is available.

Developer friendly

Our API is easy-to-use and built on industry standards such as HTTPS and JSON. Developers can use it to build powerful integrations, from an automated continuous replication of the data to your own database to a complex alerting system based on completely custom logic.

Your ship, your data

We view data ownership as essential to modern business strategies. That's why core to our vision is ensuring customers own their data and can always access it just as it was captured on the vessel using our web API.
" The Beaverlabs system collects data from vessels spread around the world, and puts information at our fingertips. It brings data that would not typically be preserved, giving us ownership of what would otherwise be lost - a strategic asset. "
Frequently asked questions
How many data sources can be sampled at the same time?

Depending on the physical interfaces used and the number of signals sampled per data source, the Beambox can easily support dozens of individual data sources, such as the ECDIS, AMS and even your own PLCs.

How long can the Beambox retain data onboard?

Depending on the number of signals sampled and the sampling frequency, the Beambox can retain the data onboard for a few weeks up to a few months. The Beambox is designed to transmit the data to shore as soon as Internet connectivity is established but can function offline using its local storage.

Can the Beambox communicate with my custom PLC?

The Beambox can communicate with any device that supports the industry standard protocols NMEA 0183, Modbus RTU or Modbus TCP, either via Ethernet or RS-485. Support for additional protocols can be added on a case-by-case basis.

How is the data communication secured?

The Beambox communicates with Prism using the standard TLS 1.2 protocol which both encrypts all communication and enforce strict host identity checking.

How much impact does the Beambox have on bandwidth costs?

The Beambox compresses the data before sending it to Prism to limit bandwidth usage. Depending on the number of signals sampled and the sampling frequency, the bandwidth requirement can be as low as a few hundred kBs per day up to a few MBs per day.

Do you offer trials?

We offer a 3-month trial for up to three vessels with the hardware installation provided by our partner Hermont Marine.